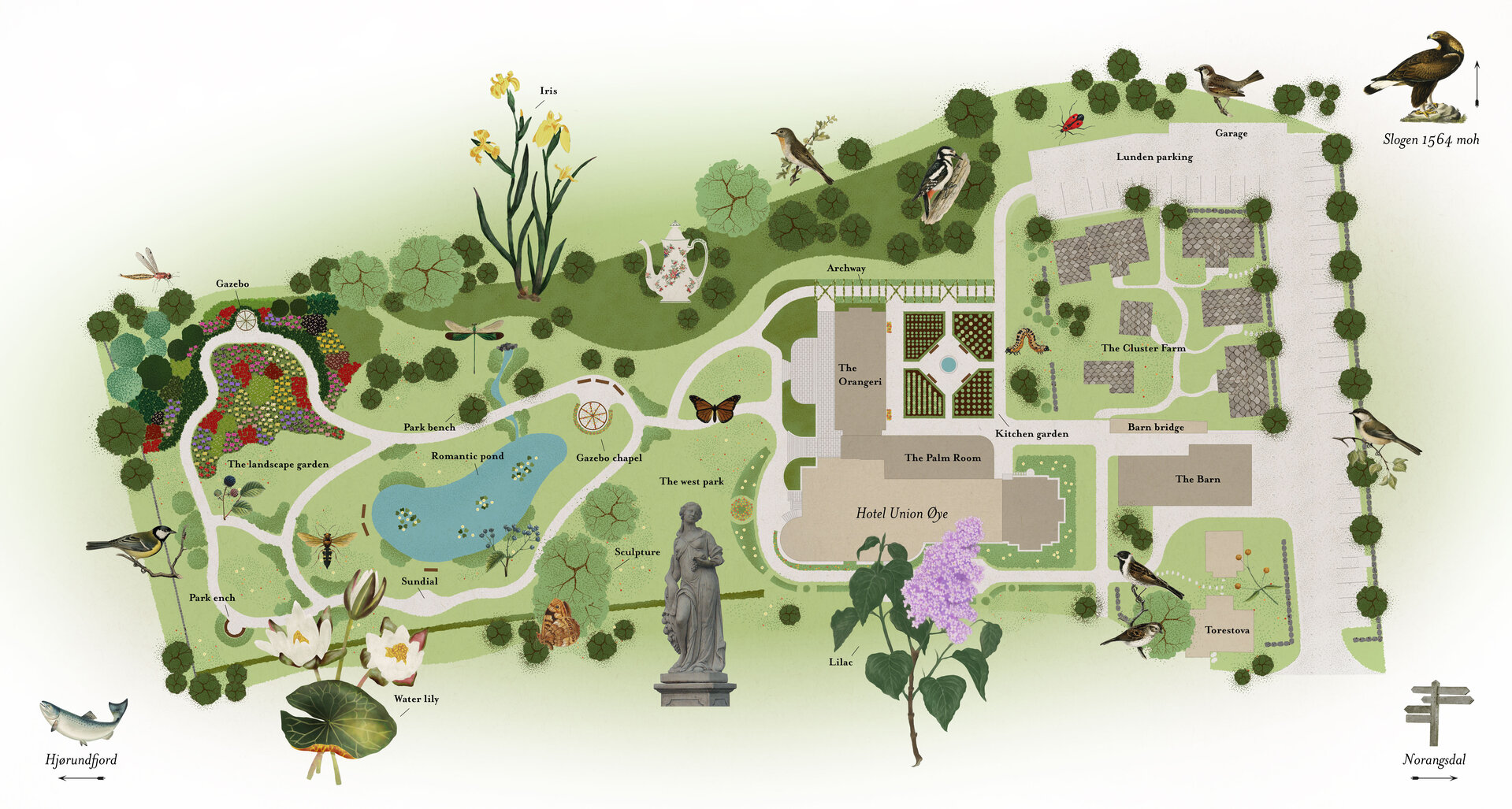 Torestova
One of the old traditional farm houses in the garden with three bedrooms
The Barn
A 'Guild Hall' at the top floor for special events like concerts, exhibitions, celebrations and conferences.
Guest Parking
The Cluster Farm
Five farm houses built in an old traditional architectural style in line with the rest of the village. Called a «klyngetun» in Norwegian, it builds on the concept of the traditional western Norwegian farm settlement built up of various farms located close together. 13 rooms created in a more rustic aesthetic which will complement the main house.
The Library
A place for our precious book collection, of antique Alpine Journals and contemporary coffee table books alike. Our original edition of the Climbers Book and other Union Øye artefacts from the past will be found in this room. With a lounge and a fireplace.
The Palm Room
Our bar and lounge area. Whimsical and wondrous.
The Wine Cellar
A special place to admire the collections of fine wine. Two separate rooms, for red and white, and a long table for wine tastings, courses and small meals.
The Living rooms
A space for storytelling and live piano music in the evening. Where you can gather your thoughts and enjoy long conversations in front of the open fireplace.
The Gardens
Which includes a vegetable garden, seating areas, pavilion, arbors and pathways, a croquet lawn, and a pond – for lilies in summer and ice skating in winter.
The Orangerie
Our restaurant which includes an antique fireplace and a lounge, as well as outdoor seating.
The Suites
Each with their own lounge, fireplace, outdoor space and bathtub. Each one individually decorated in honour of a past guest – a King, a Queen, and a Mountaineer.
The Game Room
A lounge – for an after dinner round of pool, good conversation and a glass of whiskey from the small bar. With an open fireplace.